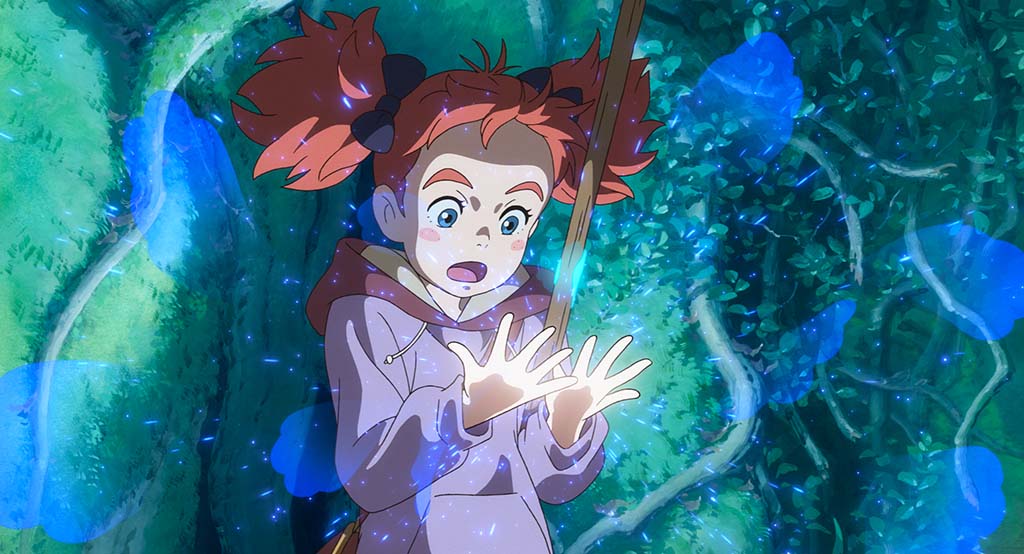 Mary and the Witch's Flower
is the first release from Studio Ponoc, the Japanese animation hub established as a sanctuary/back-up plan by Studio Ghibli animators a few years ago when it seemed as though their employers were about to close the workshop doors for good. Mercifully, that hasn't been the case, and besides, Ponoc's debut offering isn't a revolution or separation so much as a continuation. Directed by Hiromasa Yonebayashi - who did 2011's
Arrietty
and 2014's
When Marnie Was There
over at
Ghibli -
Mary
displays at least two of the signature elements of one who learnt their trade under Hayao Miyazaki: a love of landscape (incorporating a supremely close and attentive observation of natural life), and a preference for patient, old-fashioned storytelling, such as was prevalent in post-War children's literature. Having transliterated
The Borrowers
for
Arrietty
, Yonebayashi has here adapted Mary Stewart's 1971 novel
The Little Broomstick
, the spirited tale of a young girl who escapes boredom during a stay at her great aunt's home with the discovery that the berry of a certain flower, when applied to an old broomstick she finds in the woods, allows her to fly beyond the clouds to an academy for young witches and wizards.
In 2018, of course, that scenario can only recall Harry Potter, and one could arguably accuse Ponoc of the same calculation that has overtaken those US and European animation studios who've been led to rip off a Toy Story or Madagascar or Shrek every few months. Witching and wizardry has an obvious appeal to youngsters discovering how best to use their own powers: the parallels between Stewart's universe and the later one created by J.K. Rowling are only further underlined when Yonebayashi's Mary sticks her head around the door of the academy's broomstick class to spot a bowl-headed, round-spectacled young man singularly failing to master the wood clasped between his thighs. There are subtle deviations and outright differences, all the same. Madame Mumblechook, the academy's gargantuan headmistress, is no benevolent Dumbledore, rather the figurehead of a tyrannical regime that punishes outsiders and intruders like our redheaded, friendless heroine by transforming them into caged monsters. This Hogwarts, emphasis on the warts, is far closer to the Giant's kingdom in Jack the Giant Killer, and Mumblechook certainly cuts an imposing figure: part Tantrums & Tiaras-era Elton John, part Matilda's Miss Trunchbull, she strives to control the world around her, where Mary - happily sharing her lunch with adopted cat Tib - is content to live within it. (A very Miyazakian conflict, this.)
As all that would suggest, there is more here that is familiar than blazingly original. Alternately busy and cosy, the results come in on or about a par with such charming second-rank Ghibli diversions as Howl's Moving Castle or, indeed, Arrietty. Yonebayashi does, however, pull off one tricky balancing act, retaining the blithe innocence of the very best Ghibli films (key difference between Western and Japanese animators: the former spend many hours making animals talk, but only the latter seem to have studied how they walk) while also attempting the kind of (here rather trippy) widescreen action that sweeps kids up in its wake. I saw the film in a half-full public screening of the original subtitled version - an English-language dub is also doing the rounds - where in the pause that followed one agonising plummet from the sky, a tiny voice was heard to gasp "Is she dead?" (Worry not, little one.) We're headed towards a spectacular When Science Goes Wrong finale - every frame bursting with light and motion - which squares Frankenstein with Altered States; yet Yonebayashi also centralises the simple pleasure that is the sight of the aspirant witch's broomsticks - literal line drawings, transformed here into rocket-powered pogosticks - putt-putting vertically into the sky. Truly opportunistic producers would have seized upon these pared-down sleigh rides as an excuse to impose the 3D levy; Yonebayashi treats them, as Stewart did, as the basis of a magical, if somewhat evanescent, fly by night.
Mary and the Witch's Flower is now playing in selected cinemas.