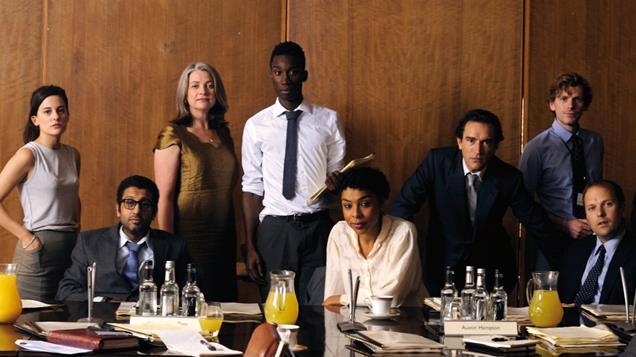 Dir: Tom Harper. With: Kerry Fox, Ben Chaplin, Phoebe Fox, Sophie Okonedo. 92 mins. Cert: 15
The latest collaboration between writer Jack Thorne and director Tom Harper (The Scouting Book for Boys) very smartly updates 1964's Hank-Fonda-in-a-bunker thriller Fail-Safe. A group of Whitehall mandarins gather under no-nonsense Sophie Okonedo to role-play the national security consequences of a Pakistani nuclear strike on India; inevitably, what begins as a jolly lunchtime skive soon turns deadly serious. Theatricality looms, but the variation of voices and viewpoints among the expert cast generates a rat-a-tat momentum: Thorne crafts rhetorical flourishes for veteran Antony Sher, agonised lefty Shaun Evans and a shellshocked Kerry Fox, and a cheeky after-hours exchange wherein suave letch Ben Chaplin compares stenographer Phoebe Fox's bum to the bomb. (Whitehall ways, perhaps; still, Godard and Kubrick would approve.) Harper's framing is always dynamic, and often pointed: each glimpse of life passing blithely by this room's only window provides a sobering reminder of the extent to which we're at the mercy of those who would govern us.
War Book is now playing in selected cinemas, and screens on BBC4 this Tuesday night at 10pm.