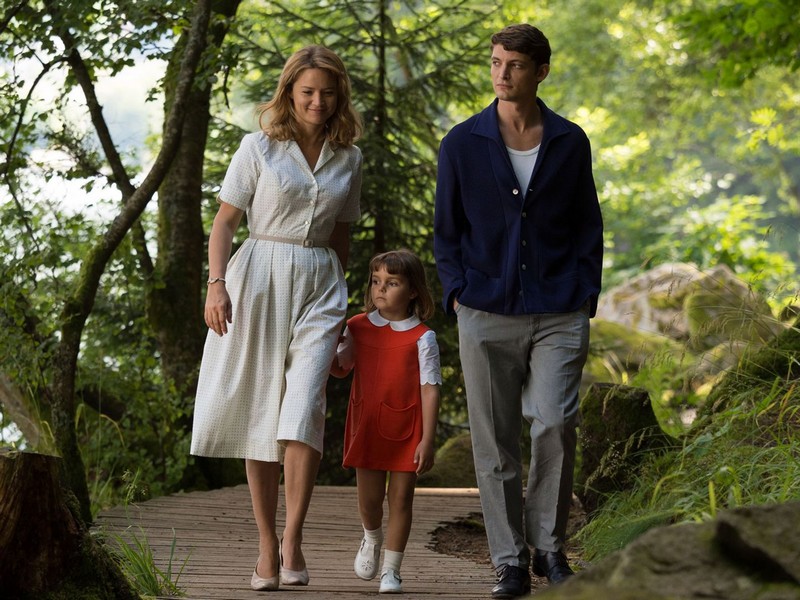 Over the past two decades, the writer-director Catherine Corsini has quietly risen to become one of the French film industry's foremost tellers of women's stories. Less of a firebrand than her namesake Madame Breillat, she's still capable of provocations - like the ending of
Leaving
, her 2009 drama starring Kristin Scott Thomas as a frustrated housewife - which jab the complacent viewer squarely in the eye, and alert us to the ways in which the world can turn for womankind. Such piquancy elevates Corsini's latest and most potent film to date
An Impossible Love
, a supremely elegant and affecting epic of the emotions drawn from a 2015 novel by Christine Angot, Claire Denis' co-writer on
Let the Sunshine In
. It begins with a daughter narrating the apparently idyllic courtship of her mother Rachel (Virginie Efira) by her father Philippe (Niels Schneider) in the pre-liberated rural France of the 1950s. She's a secretary; he, the very model of a bookish swain. They talk, they fuck, they lend each other novels, they take long nature walks (as in 2015's
Summertime
, Corsini proves alert to the physical beauty of a world transformed by romance; she is to the countryside what the granite-hard Breillat is to the city), and - after the requisite declarations of love - they eventually have a child, a girl they name Chantal, which is to say the person who's talking us through all this. Still, that title nags at us like a toothache: are this pair of sweethearts truly falling, or are they headed for a fall?
Inevitably, it's the latter. Papa, it transpires, has the kind of serious commitment issues not untypical of (though not exclusive to) the French male of the 1950s, and which factor into his longtime refusal to recognise Chantal's existence (by adding his name to her birth certificate); it's just that as a reader of Nietzsche, and a gadabout Michelin employee - a young man of the world - he has a fancy way of dressing them up. Some of Corsini's elegance here, then, is a means of easing the viewer into what is some pretty ugly, caddish, inelegant behaviour, as testified to by a narrator who was in the room, or just beyond the door, whenever events unfolded that left maman in tears. Crucially, however, Chantal was also close enough and perceptive enough to note the great nobility and fortitude of a mother left to fend for herself, with very little in the way of external support. What Angot and Corsini have given us isn't the anti-fuckboy screed Breillat might have made of this tale, but something altogether more rounded and forgiving: a love letter to a woman who was left in the lurch, yet who regathered her strength to make something of herself and for herself - a family, a career, a life - and who, even after all Philippe said and did, did her very best to instil in her offspring some sense of who this elusive, evasive man was. It's that affirmation, rather than the film's myriad emotional betrayals, which really proves heartbreaking.
Such intimacy demands an uncommon sensitivity in writing, playing and direction, and it's most obviously apparent in the casting of the various Chantals, who tesselate into a portrait of a young woman growing up with palpable dependency issues. (Her adult self is played by Jehnny Beth of the rock band Savages, bringing her usual electric intensity to the portrayal of a representative of a new generation searching for answers and understanding.) The most demanding role obviously goes to Efira, breakthrough star of 2015's In Bed with Victoria, who has to age at least four decades (with the aid of exquisitely sensitive make-up) while signalling both absolute independence and what an idiot her man was to have left her behind. She achieves all this while glowing in the manner of the great film stars; she's almost Signoret-like in the way she incarnates a certain idea of unbowed French femininity. While Philippe emerges as the villain of the piece, Schneider is at least charming enough to explain why these women fell for him, while also suggesting the ring of ice around his heart; one of the film's infinite delicacies of tone is how, even as Philippe denies responsibility for his own actions, it refuses to see him as anything other than human, capable of kindness and indifference alike. Corsini proceeds with both great compassion and assurance as the story of one insupportable love cedes to another about a love that is not inconceivable, but nevertheless requires hard work and concessions on both sides if it is to endure. It is, then, an everyday epic, alive with the struggles and setbacks folk experience week in week out, and alert to the ways so-called simple relationships routinely generate great, complicated drama. By no means is it an everyday film, though: I guarantee the final act will prompt anyone with a functioning heart into waves of hard-earned, properly cathartic tears. C'est la vie.
An Impossible Love is now streaming via Curzon Home Cinema, and opens in selected cinemas from Friday.