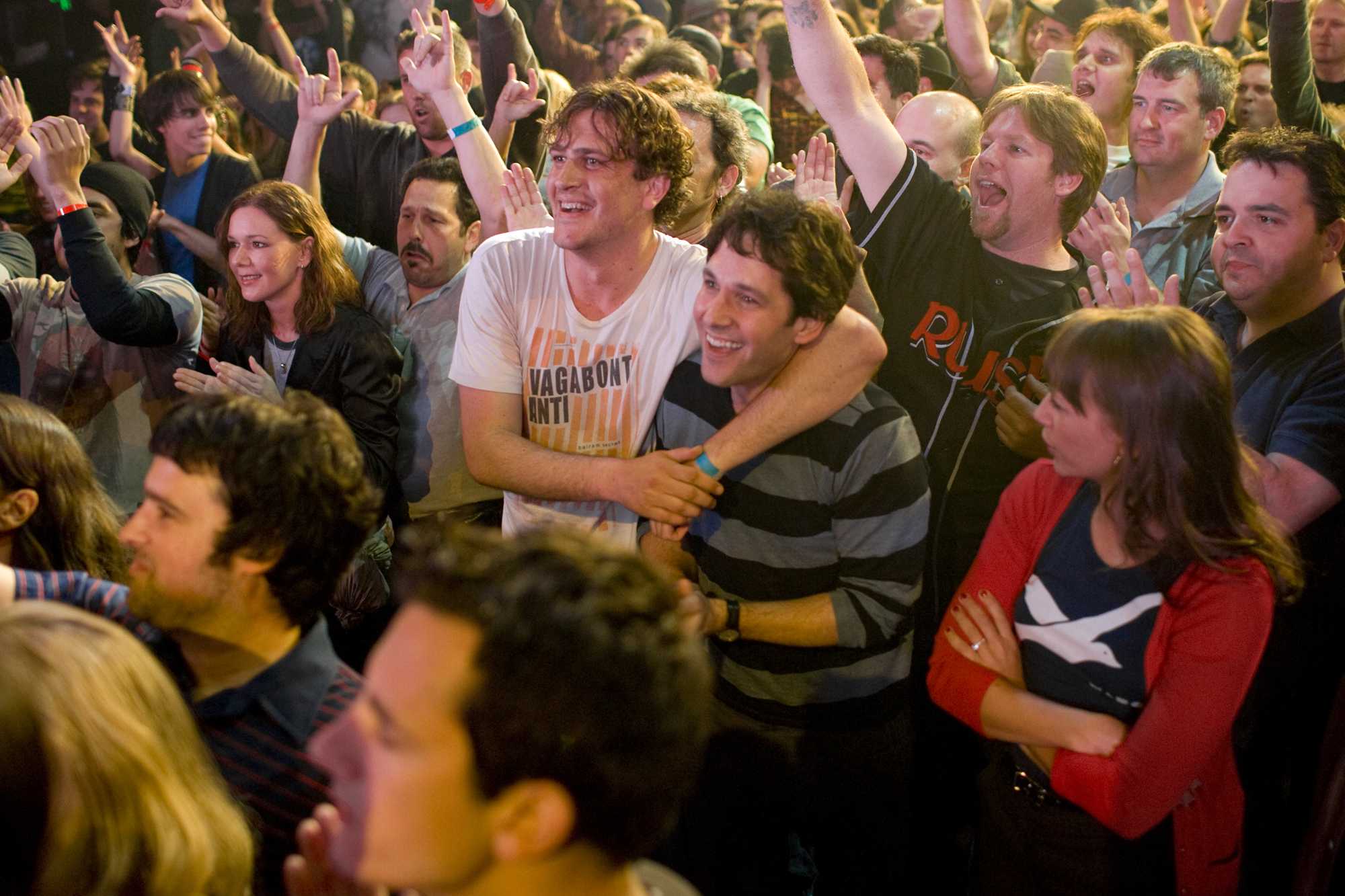 The New American Comedy, as established by Judd Apatow and his acolytes, has flirted so heavily with the notion of "bromance" - the love that dare speak its name between heterosexual men, and with such verbosity that it has been known to exclude the fairer sex from the conversation altogether - that a full-on bromantic comedy has long seemed inevitable. I Love You, Man continues the riffing on what's been this cycle's key theme - what it is to be a man these days - ever since Apatow's The 40-Year-Old Virgin: its subject is the growing relationship between two fully-grown (and demonstrably straight) men, pursuing them from their first tentative "man dates" to a last-reel declaration of lasting affection at the altar.
The set-up of John Hamberg's film isn't dissimilar to the recent French comedy My Best Friend, which cast Daniel Auteuil as a successful yet solitary businessman challenged to find a brand new buddy in order to win a bet. Here, we get Paul Rudd as Peter Kraven, a realtor whose wedding plans are hed up by a distinct lack of candidates for the role of best man. After some disastrous Internet matchmaking - and one misinterpreted shot at bonding with someone his mother sets him up with - he finally meets his Mr. Right in the form of Sydney Fife (Jason Segel), a cardigan-clad Zenmaster whom Peter encounters snaffling sandwiches and eyeing up the divorcees at an open house. Our hero finds himself being schooled in the ways of maleness - the potty talk, the guitar licks, the masturbatory rituals - in ways that soon impact upon his actual relationship.
More so than January's slipshod Role Models, this is the best vehicle yet for Rudd, the approachably nerdy breakthrough star of (and most gifted performer among) the Apatow set; in a string of set-pieces, he expertly charts Peter's progression from nervy first phone calls to awkward stabs at matey banter, usually followed by a lame attempt to come up with a casually cool leavetaking. For once, the adlibs and non-sequiturs with which these comedies have grown bloated serve some kind of thematic purpose - they go to the overarching thesis about just how difficult it can be to be hip, flip and off-the-cuff, even with someone of one's own sex. The jury's still out on whether Segel is the next Will Ferrell or merely the latest Vince Vaughn, and the supporting cast - as has become the comedy norm - is full of very funny people (Jamie Pressly, Andy Samberg, Jane Curtin, J.K. Simmons) huddled round waiting for something to do, refugees on the usual raft of throwaway ideas tossed in for a laugh and then left to float away: these extend here to the sport of fencing, a six-foot sandwich, and a dog named Anwar Sadat ("because he looks like him").
Still, Hamberg - writer of Meet the Parents, and director of Along Came Polly - keeps a lid on too much Apatovian indulgence, giving himself a structure, plot and character arcs to doodle within, and being upfront about his narrative's incontrovertible maleness means he's less dismissive of his women than many of his sniggering cohorts have been: as Rudd's fiancee Zooey, The Office's Rashida Jones is a rare non-whiny, unclingy, legitimately funny presence, and a welcome addition to the New American Comedy's female ranks, her last-reel intervention in l'affaire Rudd-Segel typical of a generally sweet-natured and generous comedy. Plenty of laughs for a Friday or Saturday night, plus an early contender for line of the year: "I don't see how having someone piss on my face is going to help me sell Lou Ferrigno's house."
I Love You, Man screens on BBC1 tomorrow night at 11.50pm.