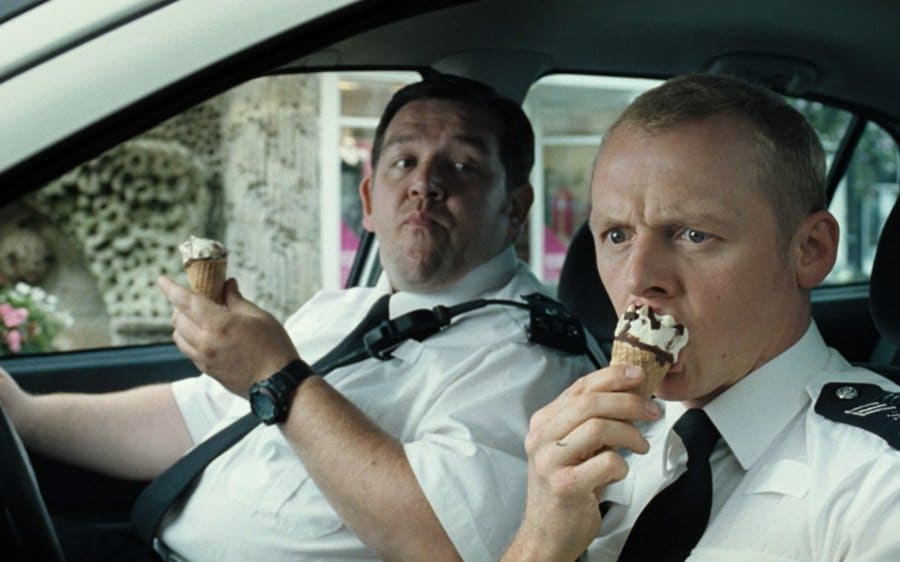 With the hit comedy Shaun of the Dead, the team behind TV's Spaced - writer/director Edgar Wright, writer/star Simon Pegg and the latter's regular sidekick Nick Frost - made a serious bid to dislodge Aardman as the most fondly regarded creative team presently working within the British film industry - and Wright's films aren't made out of plasticine. In their generally amusing follow-up Hot Fuzz, Pegg plays Nicholas Angel, a big-city top cop whose arrest record is such he gets relocated to the countryside because he's making his superiors look bad. Winding up in the quiet Gloucestershire village of Sandford, this driven, humourless over-achiever is partnered with the tubby, dim bobby Danny Butterman (Frost), a drooling, wide-eyed lump all too easily dazzled by the Chuck Norris films available in a DVD bargain bin. Butterman's philosophy - "nothing's going on" - is countered by Angel's insistence that "something's always going on", and never more so than when a spate of bloody murders suddenly disrupts the general air of calm, the early suspicion falling on a suave supermarket manager (Timothy Dalton) whose prices, at least, are criminal.
What strikes you first about Hot Fuzz is how it gets right everything that last week's Epic Movie got spectacularly wrong. There are references to other films here - to Point Break and Bad Boys II (which Butterman, naturally, prefers to the original) and even beyond action movies to the likes of The Shining and even 80s cartoon He-Man - but they're integrated in ways that don't preclude story, a mystery to get caught up in, or characters you come to like. Pegg and Wright have clearly watched these films closely - they're very much of the DVD generation, skipping and pausing to get a detail just so - and this manifests itself here in an am-dram version of Romeo and Juliet so carefully modelled on the Baz Luhrmann film that its leading lady struggles to pull off Claire Danes's angel wings and it ends with a Cockney knees-up arrangement of The Cardigans' "Lovefool". Held over from Shaun is a gorehound streak that leads to a nasty, Omen-like squelching in a graveyard, and a running joke about Cornettos that must be a great way for the filmmakers to get their hands on free ice cream.
As a director, Wright appears to have been schooled in using whatever comes to hand, more often than not inventively: there's a shoot-out in a Somerfield, an instance where product-placement is endearing rather than annoying. (It could have been another bloody Tesco.) To wear my grumpy critic's hat for a minute, Wright's trademark whipcrack editing style has become something of a cliche surprisingly early in his directorial career, there's not much room for women in this world, and - though it doesn't hurt the laugh rate especially - Pegg isn't allowed to be funny for much of the movie, though Angel's relationship with his unlikely new partner is established in such a way as for their subsequent tiffs and betrayals to matter more than they might elsewhere. Narratively, we might also wonder why suspicion for the murders doesn't fall on Nicholas Angel himself. But every other line is a winner, every other face a hero of British comedy or drama, and the result manages to satirise middle England in much the same manner as last year's The Hills Have Eyes redo had things to say about redneck America. Shaun of the Dead observed how terribly awkward it would be if zombies took over North London, but Hot Fuzz recognises there's a fine line between cleaning up the streets and what a crossword clue planted early on in the film identifies as fascism. If only Midsomer Murders were this sharp...
Hot Fuzz is available on DVD through Universal Pictures Video. A third film in this collaboration, The World's End, opens in cinemas nationwide from tomorrow, and is reviewed here.