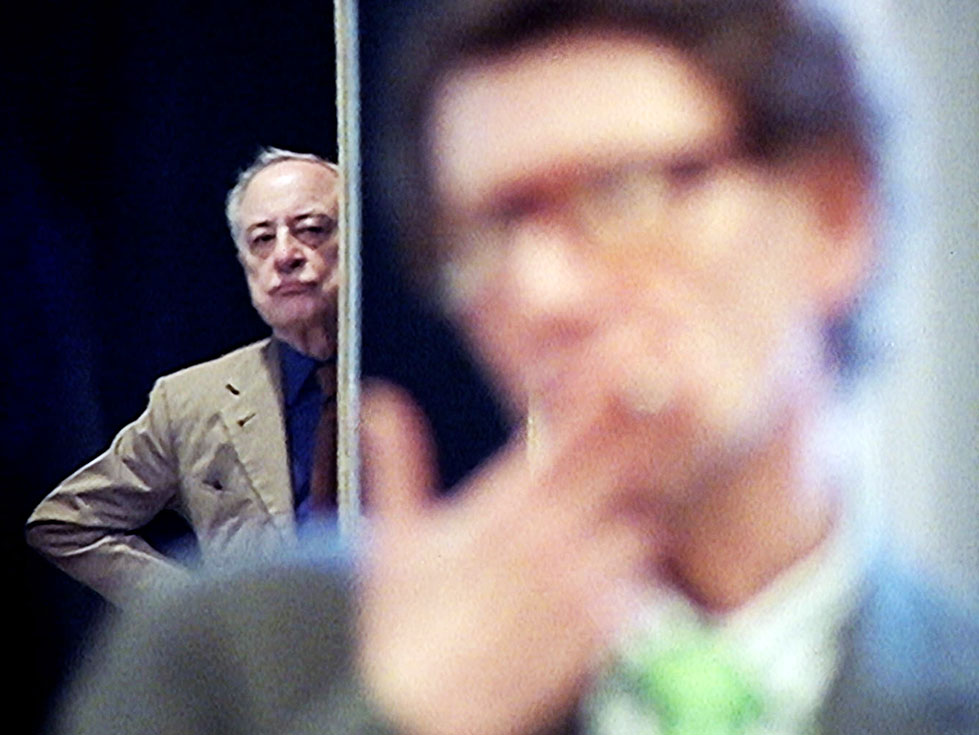 The documentary emerging this season under the title Yves Saint Laurent: The Last Collections should have come out either side of the millennium, yet its release was blocked for many years by the designer's business and life partner Pierre
Bergé
, unhappy about the manner in which he was depicted therein. Even if Olivier Meyrou's film had emerged at the tail end of the Nineties or in the early Noughties - just after the Miramax-backed Isaac Mizrahi study Unzipped had demonstrated there was a growing audience for fashion docs - it would likely have felt elegiac, a record of a dying way of life. Its original title Celebration feels very much like a false friend, if not heavily ironic: here are the last rites of 20th century haute couture. Saint Laurent was 62 when Meyrou began filming in 1998, though he looks older, propping himself up with
Bergé and cigarettes. The film around him retains a heavily sepulchral feel. In the opening minutes, we witness two former employees poking round the fashion house's empty old premises, pointing out where the plaques used to be on the doors; back in something closer to the golden days, the seamstresses discuss the building of the pyramids, while odalisque beauties drift in and out, here to have their robes tucked and stitched under the eyes of the unsmiling, insecure-seeming Emperor Yves. What Meyrou's film establishes very quickly is that this was a kingdom of sorts, one whose artefacts continue to gleam at the surface even today; yet so much of it, not least its creative prime mover, now lies buried beneath the sands of time.
It achieves this potent effect via the kind of revealing offcuts one might well find lying around on a disused factory floor, and those echoes and murmurations you start to hear upon spending time in abandoned warehouses: a framing interview conducted with YSL by a journo with a terrible cough, the quiet behind-the-scenes discussions of those whose labour sustained this empire, observed being told by senior staff to make themselves scarce should the great man deign to descend among them. The film is what it always was: Meyrou addends no explanatory voiceover or contextualising title cards, and you wouldn't know it had been suppressed for two decades from anything put up on screen. Yet the timelag may well have changed how we watch and react to these images. Post-#MeToo, the power Saint Laurent commands - even in this physically weakened state - is even clearer than it might have been ten years ago: a procession of glamorous women are sent in to parade back and forth before him, while he passes orders to attack-dog
Bergé on the tailoring alterations through which a fashion brand comes to be micromanaged. Meyrou looks straight past the surface beauty and glamour (there's next to nothing specific on the clothes) to examine the idea of fashion as a means of control, a way of determining how people (women, specifically) should look, walk and spend huge amounts of their disposable income.
In this, The Last Collections presents as a marked break with what had come before. Unzipped really was a celebration of where fashion was at the end of the 20th century, poppy colours, openly gay designers, supermodels and all. What Meyrou observes, by contrast, is morbid, deathly weird. The plastic sheeting set down on one catwalk looks like that Patrick Bateman - a no less dedicated follower of fashion - put down around his victims-to-be; there's a trip to a morgue-like archive; by the end, the dresses have started to resemble shrouds, a YSL van takes on the look of a hearse, and the designer himself is giving a lifetime achievement speech
in which he speaks, in hesitant, faltering English, of the need for self-sacrifice. Rarely can a fashion house have seemed so much like a death cult; no wonder
Bergé wanted the film locked up. The air of spookiness - the sense we're witnessing something akin to an exhumation - peaks at that award ceremony, with a fleeting, spectral appearance by, of all people in 2019, Jeffrey Epstein. There are pockets of colour and pleasure in Meyrou's film - the delight two veteran seamstresses take at seeing a sweater they've made featuring in the World Cup opening ceremony, the enviable peachiness of the young Laetitia Casta, YSL's preferred muse of this period - but they're overshadowed by the fascinating, quietly chilling insight into the work and frenzied energy that went into dressing up a certain way of life. Once upon a time, our ghouls and ghosts made do with plain white sheets.
Yves Saint Laurent: The Last Collections is now playing in selected cinemas, and streaming via MUBI.