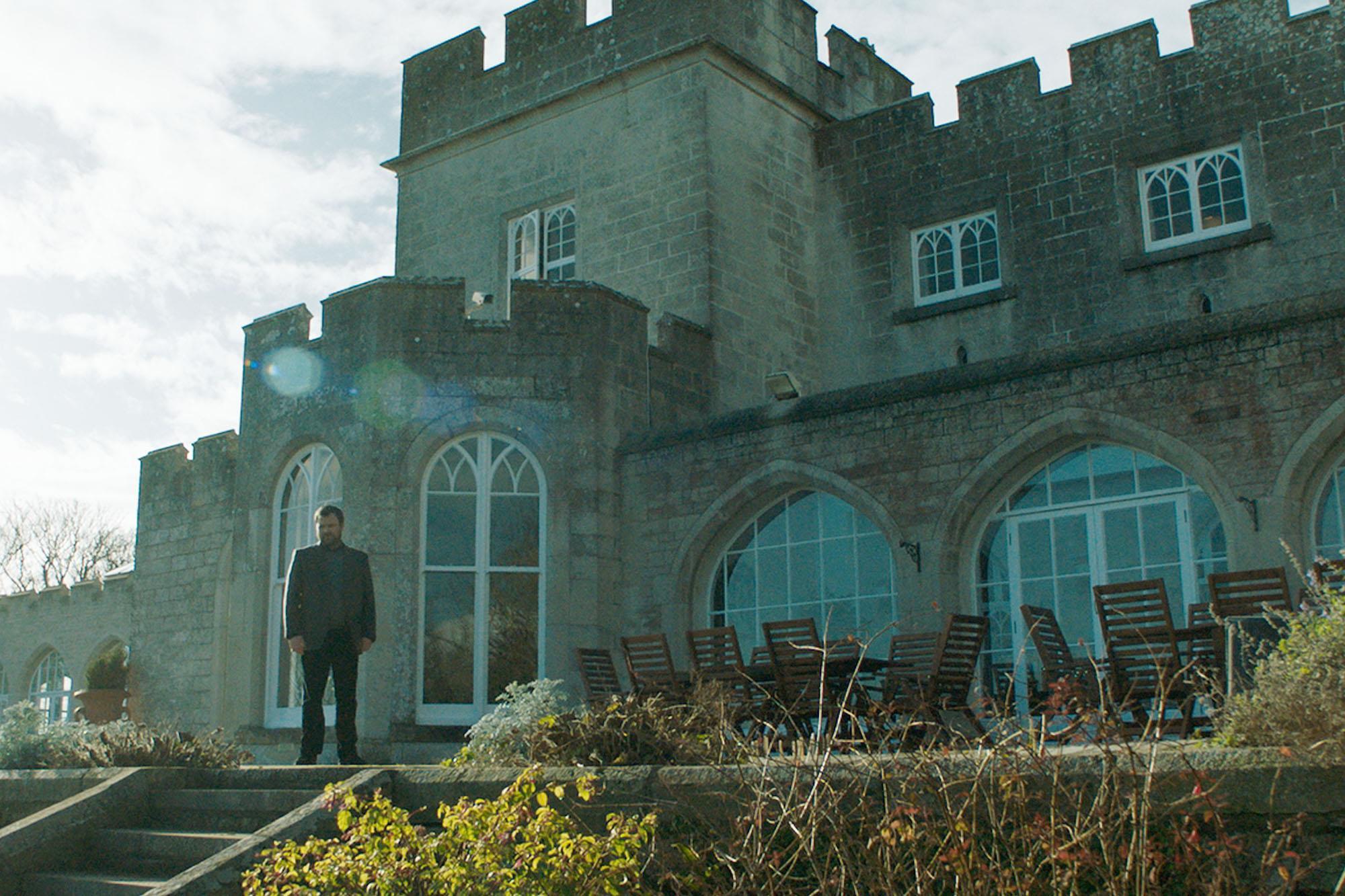 "It's like fucking Downton!," gasps one guest of the sizeable country pile hired for the family New Year's Eve gathering that occupies
Happy New Year, Colin Burstead
. Shot under the genius title
Colin, You Anus
, Ben Wheatley's latest dispatch proceeds from the scarcely less inspired conceit of hiring the kind of location typically reserved for big- and small-screen period drama, then overrunning it with people who couldn't be any less like moneyed blue bloods. Of the oh-so-2018 clan gathering for this altogether turbulent affair, some (mum and dad Doon Mackichan and Bill Paterson, black sheep Sam Riley, crossdressing uncle Charles Dance) could perhaps lay claim to being aspirationally middle class; their offspring, who've inherited their folks' evident money worries, are not quite there, however, interacting altogether brusquely with one another, and with the world around them. (Son Peter Ferdinando's response to the venue - "Can you believe this place? Size of the cunt!" - is not untypical.) Plying them all with seasonal sangaritas - part-sangria, part-margarita - is probably not the smartest of ideas. Soon it's all, in a very real sense, kicking off.
The eponymous Colin - played by Neil Maskell as the kind of basically useless bloke you could well imagine someone calling an anus - first presents to us as a stout pillar of normality, but he'd rather set up the disco than address the party's mounting tensions (not least the concerns of a wife who's found out he once dated the caterer); he goes to the extreme of locking a crying woman in the wine cellar in a bid to keep up familial appearances, and insistently tamps down his rage until it comes spilling out at entirely the wrong target. It is, then, another of Wheatley's droll studies of dysfunctional Englishness - but one lent a greater urgency by recent real-world events. "I'm good Brexit - Tony Benn Brexit," Ferdinando's chancer declares to a sceptical younger Burstead; faced with an aggrieved sister (Hayley Squires), Colin issues a starkly topical order: "No more Remoaning." There's so much fraction and division - Wheatley's own editing doing heroic work in crosscutting between the awkwardness and open warfare unfolding in the house's different wings - that you can't help but feel the Bursteads are meant to stand for Britain in its entirety, or at least for those swathes of the population who don't generally spend their evenings holed up in well-staffed country retreats.
Unlike Wheatley's recent film-sketches, Happy New Year develops into a genuine picture or portrait - perhaps a post-austerity equivalent of that snapshot Kubrick zoomed into at the end of The Shining. It's visibly a group portrait, and there's a return to the excellent methods of this director's TV breakthrough Ideal: everyone who crosses this threshold brings new notes - of despair, passive-aggression, discordance - to the party. You can tell that Asim Chaudhry - People Just Do Nothing's totemic Chabuddy G - won the onset improv wars just from the number of scenes that lean amusingly in his (supporting character's) direction, but I, Daniel Blake's Squires holds her ground as the conscience of the piece, and Paterson gets to be notably less cuddly than usual as a rather sad and desperate paterfamilias, obliged to beg his own sons for pocket money. (Where there has typically been a twinkle in the Scot's eyes, here it's replaced by a newly uncertain look, one that asks: has it really come to this?)
As for Maskell, he remains the most compelling - doubtless because least typical - leading man British cinema has produced in a generation, his shrugging solidity closer to a James Gandolfini than a Cumberbatch or Hiddleston: romantic leads may not easily come his way, but I can think of no performer better suited to playing a man found crying over his kebab of a Friday night because his wife's just walked out on him.
There are elements that remain very Wheatley and some will call caveats, not least a Clint Mansell score that, in veering from weirdo folk to pounding house, goes out of its way to drive you up the wall at some point; the film opens relatively calmly and gets louder and lairier as it proceeds before arriving at a strangely (ironically?) emollient ending, complete with apparent homage to Paths of Glory. (Happy Christmas: war is at least temporarily over.) Some of that strangeness should subside upon learning that this story isn't yet done with: the BBC have commissioned a series intended to describe the further misadventures of the Bursteads as they stumble, bullheaded or hungover, into the Year of Brexit
™. So this is a feature, but also a bustling, bristling pilot: Wheatley, of that generation of creatives who (perhaps for reasons of regular employment) make no distinction between and see no hierarchy in screen sizes, clearly means this project as a rolling state-of-the-nation address. Over the past few years of crisis, British cinema and television has done its usual spotty job of reflecting who we are and where we're headed: the hope, of course, is that we're like the Browns of Paddington, sensible, tolerant liberal-centrists with the capacity to hug out any differences. Truth is, as of now, we may be closer to the Bursteads: divided, splenetic, so busy arguing among ourselves that we've failed to notice the negative impact we're having on those around us. One thing's for sure: this isn't like fucking Downton.
Happy New Year, Colin Burstead screens on BBC2 tomorrow night at 10.30pm, and is available to view on iPlayer here.