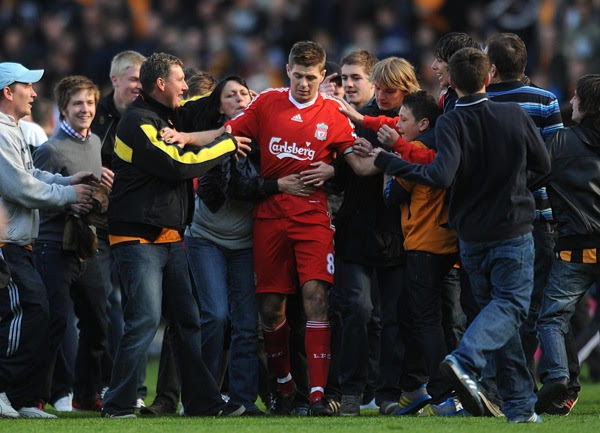 Recent football documentaries have done a variable job of tracking the game's geniuses: 2015's
Gascoigne
seemed at all points a touch too airbrushed to be true to that troubled life, while the same year's
Ronaldo
was little more than an exercise in brand polishing. (We have Asif Kapadia's much-anticipated
Maradona
to come.) Sam Blair's new film
Make Us Dream
adopts a different tack, firstly by refusing to canonise its subject in the title, then by focusing its attention on a grafter: Steven Gerrard, the tenacious attacking midfielder revered by Liverpool fans - for whom he lifted the Champions League trophy in 2005 - yet who remains inextricably linked to that so-called Golden Generation (Beckham, Rooney
et al.
) who never quite delivered on the expectations of England fans at major tournaments. Blair joins Gerrard in late 2016, cutting an isolated figure in the L.A. of his new club the Galaxy; sitting in his spacious pad, he reflects frankly, in newly sombre, lived-in tones, on his achievements and disappointments, and why he now exists in exile, an Englishman abroad, estranged from the community that nurtured and idolised him. Did he feel he let the fans down, or betrayed them somehow? What's the point of having the kind of home 21st century footballer money can buy, if all you have to fill it with are regrets?
Blair previously made Personal Best, an unusual, strikingly impressionistic study of athletes in training for the 2012 Olympics: he's less interested in sports branding than genuine human endeavour, and the work that has to be put in to enjoy the spoils of victory. Wherever he finds his subject, he's acutely alert to what Gerrard accomplished, particularly at Liverpool, where - week in, week out - he rallied supporters desperate for success during that post-Hillsborough rescaling of the domestic game that benefitted the club's Manchester rivals more than it did anyone else. (One brief, brilliant insert of Dean Saunders - a useful player, but no Ian Rush - looking downcast during a night game played in sheet rain conveys multitudes about a whole decade of underachievement.) It's impossible not to spot the renewed passion and commitment local boy Gerrard brought to the Liverpool squad of the early Noughties. As sociologist and avowed Red John Williams phrases it, here was someone "who's going to run through a brick wall for your football team", and Blair has his pick of those screamers his subject fired in from outside the box on a semi-regular basis.
Still, there's another story going on behind the on-pitch action here, made explicit with a sidebar on developments over at Chelsea (who repeatedly offered Liverpool top-dollar for Gerrard's services through the mid-to-late Noughties).
A traditionally proletarian game was about to enter its capitalist phase, where even a dour 0-0 draw on a wet Tuesday night could be rebranded as pay-per-view entertainment, and it became possible to buy rather than earn success. Blair shows us a swish new CEO (José
Mourinho) being imported from the Continent to oversee this transition period, and in late 2018, with football passing into its hyper-capitalist phase, it's something of a kicker to witness Mourinho back in the days when he was still having
fun
in press conferences. (Nobody at the game's highest level is allowed to have fun any more.) In this brave new world, passion - the ability to run from box to box - was no longer enough, and loyalty a tenuous thing: Gerrard hints at some saddening severing of ties with Michael Owen, with whom he grew up, after the striker signed for Real Madrid in 2004, although it's typical of Blair's nuanced approach that the film acknowledges how this departure forced Gerrard to step up and assume greater responsibility as club captain. That process peaked with that extraordinary, fairytale night in Istanbul in 2005, converted into a nailbiting setpiece here: Blair makes the case that Gerrard singlehandedly dragged the club towards glory that season, and - looking at the evidence as presented - it would be hard to make a comparable case for Vladimir Smicer or Harry Kewell. Still, there was nothing much else to cheer in the immediate aftermath, and holding an entire club together took a considerable mental and physical toll. As Gerrard declares, in flatly perfect Scouse, upon the revelation of an infection that ate away at his pelvis: "Me body give up."
Some viewers may be disappointed by the decision to shy away from Gerrard's misadventures with England, which surely had as much to do with the move abroad as anything else. The film's core audience looks to be Liverpool fans, who'll thrill to the unseen youth team footage and recognise (anew) how Gerrard ran himself ragged in the service of the shirt. There's a whole other film in the breakdown of relations between England players and fans following the 2006 World Cup - one that would reach a nadir with Rooney badmouthing the travelling faithful on camera at the 2010 tournament, and pivot with the reintroduction of Gareth Southgate - but limiting his study to L4 allows Blair to underline Gerrard's physical decline while bolstering his core thesis with the arrival of the Tom Hicks/George Gillett partnership. There are grace notes along the way - not least a poignant new angle on Hillsborough, a tragedy rendered familiar by successive TV documentaries: Blair shows us the schoolboy Gerrard and teammates lining up for a minute's silence - but also a real understanding of the pressures that follow from playing at such a high level for so much money. Though Blair leaves his subject in a happier place - returning him to grass roots - the self-interrogation Gerrard submits to over ninety minutes plus extra time ensures Make Us Dream cuts altogether deeper than the average sports doc, revealing the disquiet felt at the heart of the modern domestic game by even its eminent survivors. Rooney doubtless enjoyed the glorified testimonial England bestowed upon him the other week, but Gerrard - honest pro to the last - has bequeathed us a proper movie.
Make Us Dream is now playing in selected cinemas, and streaming via Amazon Prime.