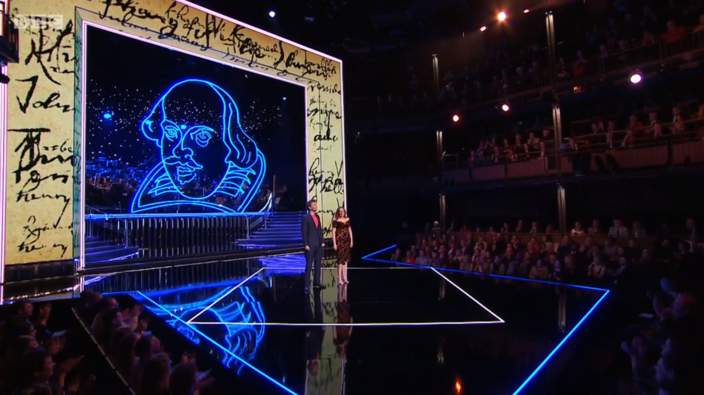 To mark the 400th anniversary of Shakespeare's death, the RSC, the BBC and Picturehouse Cinemas joined forces to mount a one-off two-hour Bard variety show, staged in Stratford-upon-Avon by Gregory Doran and simultaneously beamed into cinemas and broadcast on BBC2.
Shakespeare Live!
was positioned as cultured viewing for anybody more accustomed to spending Saturday night on the sofa watching minor celebrities squeezing themselves through holes in walls, or members of the general public prostrating themselves before Messrs. Cowell and co. "There really is something for everyone," enthused co-host Catherine Tate in the course of the opening link, lulling hardcore skate punk enthusiasts, for one, into a false sense of security.
What the rest of us got - beneath the watchful eye of today's Prince of Wales, and on a purplish stage that seemed to offer its own tribute to another, recently departed Prince - was a starry, tweetalonga pick 'n' mix of some of Will's greatest hits: the Ages of Man speech from As You Like It, a mash-up of wooing scenes (with John Lithgow a joy as ever as a prancing, yellow-gartered Malvolio), Meera Syal and Sanjeev Bhaskar doing Benedick and Beatrice. The approach allowed viewers to choose their moment to put the kettle on or go for a pee: philistine that I am, I must confess to drifting in and out during the ballet and opera selections, and the po-faced Rufus Wainwright sonnet. (There was a lengthy jazz-inspired section, if you badly needed a poo.)
That this was primarily conceived as a hands-across-the-centuries celebration of Shakespeare manifested in the lack of any of, say, Titus Andronicus's grislier extracts, presumably deemed inappropriate for an audience that contained not just a king-in-waiting but an unusually high proportion of sensitive young Florences and Julians. (Even John of Gaunt's "this scepter'd isle" speech, as performed on tape by Simon Russell Beale, was cut before it got too glum.) Still, the occasional surprise turn jostled - if not entirely dispelled - the overall air of bourgeois self-congratulation: a larky sketch from the Horrible Histories mob, a legitimately funny pile-up of Hamlets past, present and future, a donkey-jacketed Al Murray wooing Judi Dench with his Bottom.
There were limitations. With the exception of the clips we were shown of the Zulu and Cherry Blossom Macbeths - valuable notes of diversity - and occasional links to Joseph Fiennes trudging around key Shakespeare Trust properties, this was a resolutely stagebound show. Given that Shakespeare Live! was being beamed into Picturehouses, you might have hoped for more recognition of the playwright's track record on film, although as the BFI would in subsequently beam Ian McKellen's Richard III back into cinemas, and the BBC had a wide-ranging Arena doc on the subject scheduled for the following night, perhaps everyone concerned felt they had their Bard-bases covered.
At any rate, Doran and co. packed a lot into these two-and-a-bit hours: you couldn't really complain that you hadn't got your premium ticket or licence's worth, and the show's presence in the TV listings in particular pointed up something missing from the schedules these past few decades. Although BBC4 rather tentatively aired Juliette Binoche's Antigone last summer, the live theatrical experience has long been purged from our terrestrial channels, deemed too dry or unwieldy to programme, or perhaps not commercial enough. As a hoity-toity cinema purist, I'd rather these events went to BBC2 than Screen 2, where - no matter how profitable they might be for struggling arthouses - they're blocking vital new cinematic talent.
Still, I appreciate that the achievement of an event like this is to put these words and players in an entirely new context, and i
f ever you required further proof of the Bard's ability to class up a room and transform a career four centuries after his passing, all you needed to do here was look out for the arrival of comedian and actor Rufus Hound, once mired among the knob gags of ITV2's
Celebrity Juice
, but now observed courting Charles and Camilla while duetting with Henry Goodman on
Kiss Me Kate
's "Brush Up Your Shakespeare". That you could also switch on the box of a Saturday evening and for once see no trace whatsoever of the gurning Olly Murs could, in its own way, be claimed as a small triumph for culture over commerce. No wonder John Whittingdale wants to intervene at the BBC.
Shakespeare Live! is now available to watch on the BBC iPlayer.