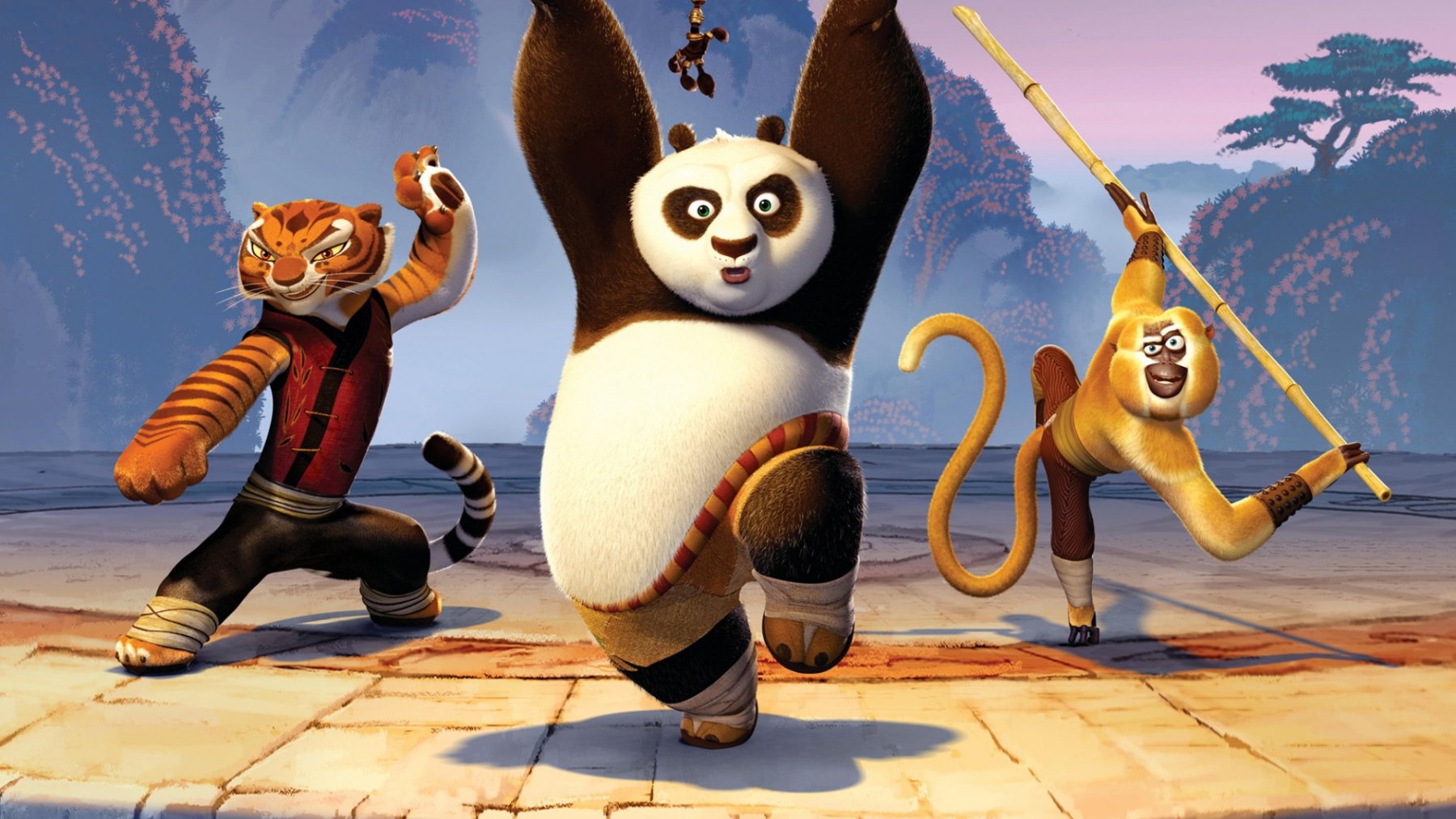 The animators at DreamWorks have yet to make a great film - you have only to compare the
Shreks
to Pixar's
Toy Stories
to realise that - but they've been reliable providers of serviceable school-holiday entertainments featuring characters you might well want to own as merchandise. After the penguins of
Madagascar
and the colourful turtles and hamsters of
Over the Hedge
, the latest figure likely to send youngsters scurrying out of cinemas and into the toyshop is
Kung Fu Panda
's Po (voiced by Jack Black), a cuddly, clumsy bear who dreams of becoming a fighter so great he could "blind his enemies with pure awesomeness".
Po, unfortunately, spends his waking hours working as a humble noodle seller, but when he gatecrashes a ceremony at a nearby temple, the panda is mistakenly appointed as the Dragon Warrior - ahead of such disciplined students as the 'Furious Five', a quintet (comprising a viper, a monkey, a mantis, a stork and a tiger) naturally miffed by this outsider in their midst. These differences have to be set aside when the fearsome Tai-Leung, a snow leopard with the voice of TV's Lovejoy, escapes from prison, set on vengeance against the quintet that put him there in the first place.
A fairly cute confection - its supporting cast of villagers made up of bears, pigs and bunnies -
Kung Fu Panda
looks to have been conceived in response to the criticism that too many modern animations have been sullied by in-jokes aimed at accompanying adults in the audience. Though it clearly aspires towards delivering an animated version of the martial-arts currently to be seen in the live-action
The Forbidden Kingdom
(indeed, Jackie Chan provides a voice cameo here), the film refrains from referencing specific chopsocky movies, wisely deciding its target audience would be too young to have seen
Enter the Dragon
or
The Big Boss
. Parents have nothing to worry about: though Po's mentor Master Shifu (Dustin Hoffman) insists "the only souvenirs we pick up around here are bloody knuckles and broken bones", the violence takes the form of knockabout comedy in which nobody gets hurt. (The best joke is that Po should be, well,
insulated
well enough to absorb all the blows he takes.)
As a result, this is a likable if somewhat bland film (Black is on gentler form than he's perhaps ever been), one that inevitably suffers when put up against the dynamism of Pixar's own superhero movie
The Incredibles
, but which also suffers from the same synthetic chinoiserie (cherry blossoms, mountain landscapes) of Disney's 2D
Mulan
, the last animated attempt to crack the Asian market. The action sequences, at least, offer solid value-for-money, but these things have to be much, much better if they want to enter into the pantheon of modern classics; as it is, a quirk of scheduling fate leaves
Kung Fu Panda
liable to be knocked aside by the forthcoming
WALL-E
- yup, Pixar again.
(June 2008)
Kung Fu Panda is available on DVD through 20th Century Fox Home Entertainment.