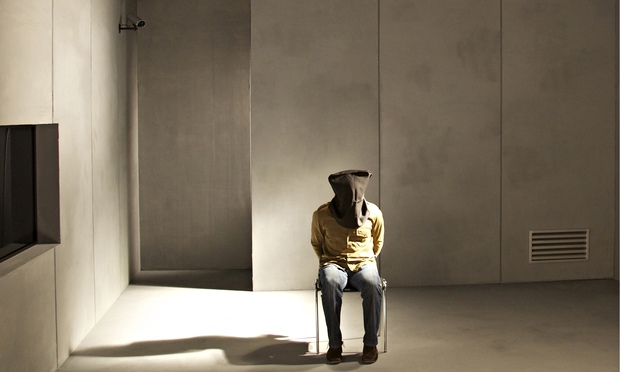 Documentary production powerhouses John Battsek and Simon Chinn have an eye for projects centred on individuals operating deep undercover; they've come to realise that audiences both relate and respond to stories in which the primary fear is the very contemporary, near-universal one of being found out. After Philippe Petit in 2008's Man on Wire, stashing his equipment in preparation for his tightrope walk between the Twin Towers, and Frederic Bourdin, the conman key to 2012's The Imposter, the Battsek-Chinn alliance now introduces Mosab Hassan Yousef, subject of director Nadav Schirman's The Green Prince. The son of imam and high-ranking Hamas official Sheikh Hassan Yousef, Mosab came as a teenager to accept an offer to work for the Israeli security service in order to liberate himself from custody, and was then forced to run the gauntlet for the decade between 1997 and 2007 while he figured out where his true loyalties lay.
Several years on, and now in exile in the United States, the now adult Yousef sits in a replica of the interrogation room he was first turned in, talking us through his experiences and feelings - as he originally did in a 2010 autobiography, Son of Hamas - and explaining how he came to find a way through the ethical labyrinth in which both Hamas and Shin Bet could be heard doing and saying much the same things to a boy such as he. As a witness, Yousef could scarcely be better placed: soon after his release from Israeli custody, he became his father's assistant, and elected to use his position - as simultaneously a son and an informant growing increasingly alienated by Hamas's militancy - to keep his dad as safe as any political figure might be in today's Middle East. Yet Schirman has intercut this story with a second narrative, that of Yousef's Israeli handler Gonen Ben Yitzhak, who saw close up what a coup his charge was ("like turning the son of the Israeli Prime Minister") and now speaks, with a degree of frankness, about how this all came about.
Both men are pleased by, even proud of, their work, and prove keen to relay their stories; unlike those in Errol Morris's first-person interrogations, these subjects seemingly require no behind-the-camera prompting or redirection, and their testimonies are presented to be taken more or less at face value. Schirman instead concentrates on packaging and punching up everything else around it, deploying espionage thriller tropes (lots of mock surveillance footage and night-vision reconstructions) as part of the cinematic nous (razor-sharp cutting, deft, atmospheric scoring, a clear, relentless narrative line) now expected of Battsek-Chinn productions. All this helps The Green Prince play - it won the Sundance documentary prize last year - but the blood trickling through the archive footage kept reminding me just how contentious the raw material here is, and how much more contentious it is than the substance of either Man on Wire or The Imposter: the super-slick approach, while dramatically effective, can be ideologically jarring.
For here, unlike in those predecessors, there's more at stake than just a good yarn. The Green Prince follows 2012's The Gatekeepers in shining a little more light on the once-shadowy activities of Israel's Shin Bet, yet Schirman is far less rigorous in his questioning of the organisation's methods and motives: you wouldn't have to be politically entrenched or entirely wrong-headed to read his film as an endorsement of the tactic of imprisoning and torturing Palestinians - here, it's reported to have saved many Israeli lives, no matter that both Yousef and Yitzhak ended up in the cold. Narratively, it is a hell of a thing - a story with not just one but two fully articulated positions, lives weighing in the balance, and a humanising, we-are-the-world punchline - and it's hardly a surprise Hollywood has pounced upon it, greenlighting a feature version just as it has a feature on Man on Wire in the works. More so than usual, however, it's a documentary that demands very close, careful, attentive parsing.
The Green Prince is released on DVD today.